Our Story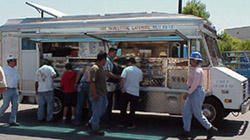 Lee Industrial Catering, the largest mobile catering services provider in Northern California, was founded in 1980. It all started with one truck, and has since grown to a Lee Brothers Foodservices Incorporation with four commissaries to service over 400 independent catering trucks dba Lee Industrial Catering. Each of the Lee's Catering trucks is fully equipped with state-of-the-art conveniences of a full service restaurant. Each order can be made to the customer's specific request, faster and better day by day.
We offer a wide selection to choose from depending on how hungry you are of course. Maybe a light snack, such as some fresh fruit or possibly one of our many doughnuts baked fresh every morning in our very own on-site bakery. If a big meal is what your craving, look no further, because we can custom make a meal that will definitely soothe your hunger. Our trucks also carry a large selection of cold refreshments packed in a bed of ice for those long warm days.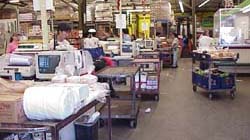 Lee's Catering guarantees all of the products that we carry will be of the highest quality and freshness. We carry products from Berkeley Farms, Pierce Foods, and Nestle to name a few. We also are able to produce our own meat products, from our on-site meat processing plant. With inspection everyday by an USDA inspector, we can create quality products for our customers, from the simple Hot Dog to an exotic pate.
Lee's Catering can provide scheduled daily catering corresponding to your organization's break schedules (breakfast, lunch, dinner, or any other breaks in between). We can also provide catering services for special events.