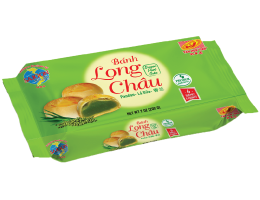 DRAGON PEARL CAKE PANDAN
PLU
1357
PACK
20
SIZE
7 OZ
BRAND
SAIGON GOURMET
1357 DRAGON PEARL CAKE PANDAN 7 OZ
CASE DETAILS
| | |
| --- | --- |
| Qty Per Case | 7 OZ |
| DEMEN-SIONS(inch) | 18.9 x 11.4 x 7.8 |
| Weight | 8.75 |
INGREDIENTS:
Mung Beans, Wheat flour, Sugar, Butter, Malt, Water, Vegetable oil (Palm oil), Vegetable Shortening, White sesame, Pandan Flavour (Triacetin (Fema 2007): Propylene Glycol (Fema 2940), Vanillin Powder (Fema 3107), Gamma Nonalactone (Fema 2781), Pandan Colour (Fd&c Yellow 5, Nacl, And Fd&c Blue)).
STORAGE AND INTRUCTIONS:
The number printed on the package is the best by date kept frozen. The defrosting date is applied at each retail store. Thaw first before consuming. Once thawed please consume within 60 days.