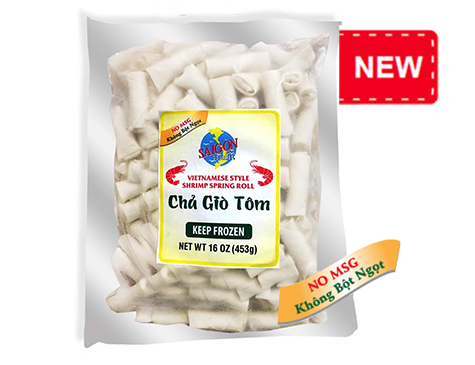 SAIGON GOURMET VIETNAMESE STYLE SHRIMP SPRING ROLLS
PLU
3945
PACK
10
SIZE
16 Oz
BRAND
SAIGON GOURMET
CATEGORY
SAIGON GOURMET FROZEN EGG ROLLS
3945 SAIGON GOURMET VIETNAMESE STYLE SHRIMP SPRING ROLLS 16 Oz
CASE DETAILS
| | |
| --- | --- |
| Qty Per Case | 16 Oz |
| DEMEN-SIONS(inch) | 12x9x6 |
| Weight | 10 |
DESCRIPTION:
Made from fresh pastry and shrimp, these simple, fresh shrimp spring rolls are great as an appetizer or a light meal. Deep fry & enjoy with a creamy peanut sauce, sweet & sour sauce, or chili sauce!
COOKING INSTRUCTIONS:
Deep frying from frozen: Heat oil to 3750F, deep frying about 4-5 minutes until golden brown or internal temperature of 160°F.