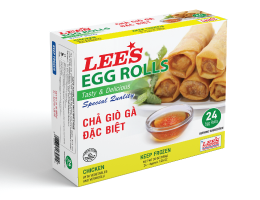 LEE'S EGG ROLLS CHICKEN
PLU
3952
PACK
10
SIZE
30 Oz (24CT)
BRAND
LEES SANDWICHES
CATEGORY
SAIGON GOURMET FROZEN EGG ROLLS
3952 LEE'S EGG ROLLS CHICKEN 30 Oz (24CT)
CASE DETAILS
| | |
| --- | --- |
| Qty Per Case | 30 Oz (24CT) |
| DEMEN-SIONS(inch) | 17x16x8 |
| Weight | 20 |
INGREDIENTS:
Marinated ground chicken, rolled in wrappers, then deep fried, Vietnamese egg rolls can be eaten as a main dish with a sweet and spicy dipping sauce (Nước mắm chấm) or as a component to a main dish like Grilled Pork with Vermicelli Noodles (Bún thịt nướng). Enjoy!
COOKING INSTRUCTIONS:
Preheat oil to 350°F.
Fry egg rolls for 5-7 minutes or until golden brown, and reaches an internal temperature of 160OF. Turn frequently to evenly brown.
<