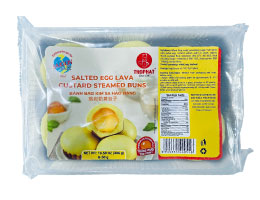 SALTED EGG LAVA CUSTARD STEAMED BUNS
PLU
0125
PACK
1
SIZE
10.58 Oz
BRAND
THỌ PHÁT
CATEGORY
SAIGON GOURMET FROZEN STEAMED BUNS
0125 SALTED EGG LAVA CUSTARD STEAMED BUNS 10.58 Oz
CASE DETAILS
| | |
| --- | --- |
| Qty Per Case | 10.58 Oz |
| DEMEN-SIONS(inch) | |
| Weight | 7.9 |
INGREDIENTS:
Wheat flour, water, seasoning (sugar, malt syrup, salt), salted egg, coconut extract, palm oil,yeast, tapioca starch, soybean flour, stabilizers (INS 471, INS 405), food colouring (FD&C Yellow No 5 (INS 102), beta-carotene (INS 160a(i))), vanilin flavor.
Product containing: wheat, egg, soybean.
STORAGE:
Remove from packaging and heat before use:
Steam: Steam over boiling water for approximately 5 minutes or until soft.
Microwave: Place buns in the covered microwave box. Heating on medium mode for approximately 2-3 minutes then rest before serving.