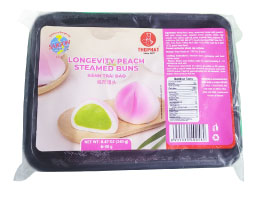 LONGEVITY PEACH STEAMED BUNS
PLU
0127
PACK
12
SIZE
8.47 Oz
BRAND
THỌ PHÁT
CATEGORY
SAIGON GOURMET FROZEN STEAMED BUNS
0127 LONGEVITY PEACH STEAMED BUNS 8.47 Oz
CASE DETAILS
| | |
| --- | --- |
| Qty Per Case | 8.47 Oz |
| DEMEN-SIONS(inch) | |
| Weight | 6.3 |
INGREDIENTS:
Wheat flour, water, seasoning (sugar, salt), pandan leaf juice, mung bean, coconut cream powder, whole egg powder, corn starch, palm oil, yeast, soybean flour, soybean oil, stabilizers (INS 405, INS 471), food colouring (FD&C Blue No.1 (INS 133), FD&C Yellow No.5 (INS 102), FD&C Red No.3 (INS 127), green bean flavor. Product containing: wheat, egg, soybean.
STORAGE:
Remove from packaging and heat before use:
Steam: Steam over boiling water for approximately 5 minutes or until soft.
Microwave: Place buns in the covered microwave box. Heating on medium mode for approximately 2-3 minutes then rest before serving.