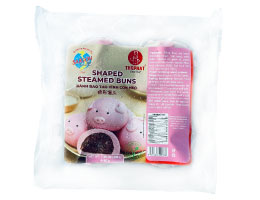 PART BURNER "W" 19/22
PLU
0068
PACK
12
SIZE
7.05 Oz
BRAND
THỌ PHÁT
CATEGORY
SAIGON GOURMET FROZEN STEAMED BUNS
0068 PART BURNER "W" 19/22 7.05 Oz
CASE DETAILS
| | |
| --- | --- |
| Qty Per Case | 7.05 Oz |
| DEMEN-SIONS(inch) | 19.9x8.2x7.6 |
| Weight | 5.2 |
INGREDIENTS:
Wheat flour, red bean, seasoning (sugar, malt syrup, salt), water, soybean oil, palm oil, yeast, coconut cream powder, soybean flour, food colouring (FD&C Red No.3 (INS 127), caramen (INS 150c)).
STORAGE:
Remove from packaging and heat before use:
Steam: Steam over boiling water for approximately 5 minutes or until soft.
Microwave: Place buns in the covered microwave box. Heating on medium mode for approximately 2-3 minutes then rest before serving.