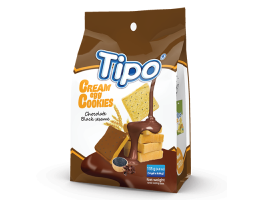 TIPO BLACK SESAME CHOCOLATE CREAM EGG COOKIES
PLU
1172
PACK
40
SIZE
4.8 OZ
BRAND
SAIGON GOURMET
CATEGORY
GOURMET CAKES - TIPO
1172 TIPO BLACK SESAME CHOCOLATE CREAM EGG COOKIES 4.8 OZ
CASE DETAILS
| | |
| --- | --- |
| Qty Per Case | 4.8 OZ |
| DEMEN-SIONS(inch) | 18.8x14.3x11.4 |
| Weight | 12 |
INGREDIENTS:
Egg, Sugar, Wheat Flour, Dark Compound (Sugar, Palm Oil, Cocoa Powder, Emulsifier: Soya Lecithin, Stabiliser: Sorbitan Tristearate, Emulsifier: Polyglycerol Polyricinoleate, Vanillin), Refined Palm Oil, Black Sesame Seeds, Humectant: Stabilizer (Sorbitol Syrup (E420(ii)), Propylene Glycol (E1520), Emulsifiers: Mono-and Di-glycerides Of Fatty Acids (E471), Polyglycerol Esters Of Fatty Acids (E475), Cocoa Powder, Milk Powder, Sodium Hydrogen Carbonate (E500(ii)), Acidity Regulators (E341(i), E450(i)): Calcium Dihydrogen Phosphate (E341(i)), Disodium Diphosphate (E450(i)), Salt, Artificial Chocolate Flavor (Cocoa Extract, Caramel (E150c), Ethyl Alcohol, Ethyl Maltol, 3-methyl Butanal, Ethyl Formate, Maltol, Acetic Acid (E260), Propylene Glycol (E1520), Vanillin).
ALLERGENS: Egg, Wheat Flour, Milk and Black Sesame Seeds.
STORAGE: Keep in a dry and cool place. Avoid direct sunlight.