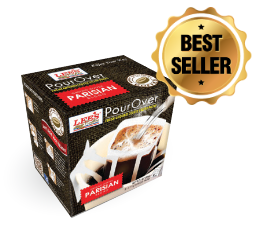 POUROVER COFFEE PARISIAN 8 BAGS
PLU
5682
PACK
22
SIZE
8CT
BRAND
LEES COFFEE
CATEGORY
LEE'S COFFEE EXCLUSIVE FRESH GROUND COFFEE
5682 POUROVER COFFEE PARISIAN 8 BAGS 8CT
CASE DETAILS
| | |
| --- | --- |
| Qty Per Case | 8CT |
| DEMEN-SIONS(inch) | 20 x 17 x 5 |
| Weight | 8 |
INSTRUCTIONS:
Step 1: Tear filter at top along perforation.
Step 2: Pull bottom of hangers away from filter. Hang filter on cup.
Step 3: Pour about 1 oz boiled water to saturate the grounds. After about 8 - 12 oz of hot water.
Adjust to your personal taste.
Step 4: Remove filter by hangers and dispose.
Enjoy!
SHELF LIFE: